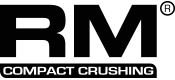 Details
Manufacturer

Rubble Master

Machine Type

Compact Mobile Crushing

Industry

Demolition

,

Government / Municipalities

,

Mining

,

Quarry & Aggregates

,

Waste/Scrap
Description
Versatile
Capable of recycling and processing almost any material, including C&D waste, asphalt, concrete with rebar, natural rock, glass, coal, slag, and more.
Extremely Powerful
Diesel-over-electric drive system lowers fuel consumption up to 30% without sacrificing performance or throughput.
Unmatched Mobility
Easy transport without any special permits allows rapid movement between jobs. Setup time from unload to crush is less than 20 minutes.
The Operators Choice
Operating a crusher has never been this easy. Thanks to the revolutionary RM GO! principle, the room for operator error has been significantly reduced.
Urban Friendly
You won't believe how quiet it is until you hear it work. The on-board dust suppression system keeps dust emissions to a minimum.
• Discounted pricing for municipal and government agencies
• Financing packages tailored to meet your budget
• Scheduled maintenance programs on-site or in our shops
• Extensive rental fleet to supplement your fleet quickly