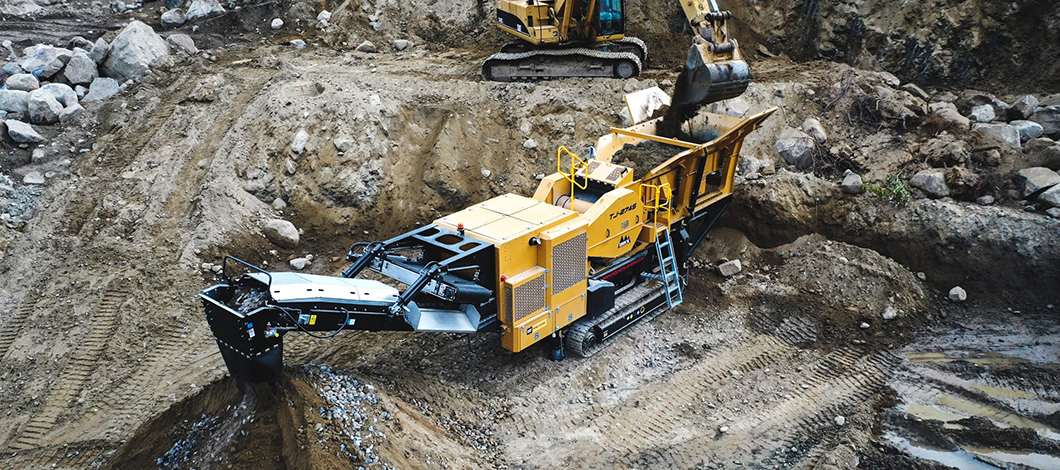 Details
Manufacturer

IROCK

Machine Type

Jaw Crusher

Industry

Compact Mobile Crushing

,

Crushing, Recycling & Organic

,

Demolition

,

Hills Environmental

,

Irock

,

Mining

,

Quarry & Aggregates

,

Waste/Scrap
Description
The rugged and versatile TJ-2745 high capacity, mobile Jaw Crusher offers field-tested reliability for the toughest projects. Optimized for Type 1 crushing applications, this tracked unit features a heavy-duty bofar design and pan feeder chutes with steep angles to reduce material sticking.
ENGINE CAT® C9.3B 350 HP
STOCKPILING HEIGHT 12 feet, 8.7 inches
FEEDER HOPPER CAPACITY 7.3 cubic yard
JAW SIZE 45 inches by 27 inches
TJ-2745 – Mobile Jaw Crusher Features:
The high-capacity 8-cubic-yard hopper mounts over a vibrating feeder, which can be manually regulated; for better efficiency with less effort, the load-sensing jaw can automate the process.
The 45-by-27-inch jaw incorporates reversible hydrostatic drive and reversible jaw plates for top productivity on every job.
An open chassis minimizes maintenance and setup for ultimate uptime.
The optional independent pre-screen maximizes crusher efficiency and delivers a screened product to a side conveyor.
• Discounted pricing for municipal and government agencies
• Financing packages tailored to meet your budget
• Scheduled maintenance programs on-site or in our shops
• Extensive rental fleet to supplement your fleet quickly