IROCK TJ-2745 Mobile Jaw Crusher
RUGGED AND VERSATILE
The rugged and versatile TJ-2745 high capacity, mobile Jaw Crusher offers field-tested reliability for the toughest projects. Optimized for Type 1 crushing applications, this tracked unit features a heavy-duty bofar design and pan feeder chutes with steep angles to reduce material sticking.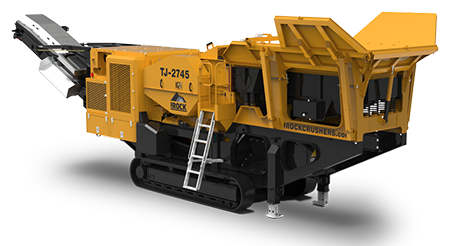 IROCK CRUSHER SUCCESS STORY
Check out the TJ-2745 Crusher in action.
Capital Quarry Materials & Ace Equipment Sales
James Warren at Capital Quarry Materials had a new project where they were asked to crush structural fill, driveway base, parking lot base and crushed stone for drainage and storage boxes for the infrastructure of water retention.
Rather than break down the jaw crusher in their own pit, Ace Equipment suggested they rent a unit for this project. Ace Equipment provided Capital Quarry Materials an IROCK TJ-2745 Mobile Jaw Crusher. The IROCK TJ-2745 provides streamlined material handling across applications utilizing both level and load sensors. This plant offers ease of access, maintenance and versatility to increase production. Once off the trailer, Warren had the plant up and running and the amount of material that it produced was perfect for the operation.
NEW IROCK Crushers at Hills Environmental
IROCK has spent the last 30 years hustling right alongside you improving their manufacturing process so their machines are the bedrock of your crushing and screening success. IROCK is proud to be an American designer and manufacturer of mobile (tracked) and portable (wheeled) crushing plants, screening plants, conveying equipment and related products for the demolition, recycling, and aggregate industries.
Hills Environmental is proud to offer a comprehensive line of equipment from IROCK Crushers!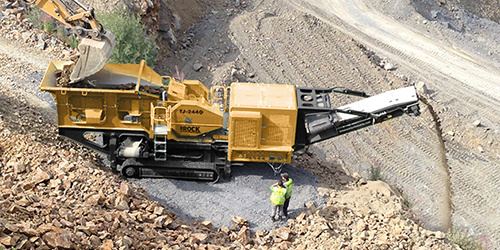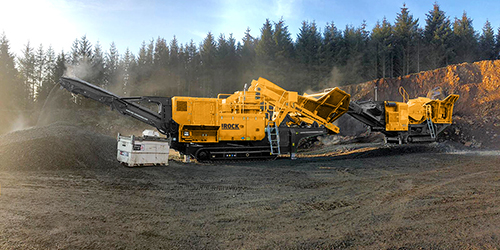 CONTACT US
Hills Environmental is dedicated to providing the best solution for your business. Let one of our IROCK Crusher pros help you determine the best set up for your needs. Call your local dealer or fill out the form below for more information.